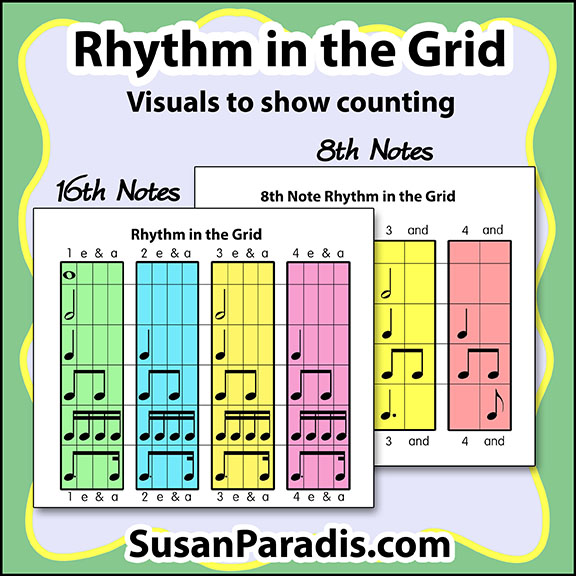 I'm on a rhythm kick here on Throwback Thursday. Last week I posted Rhythm Pizza, a great hands-on way to teach rhythm values. Today I am posting Rhythm in the Grid,  two rhythm posters for older students that show rhythm values another way. We all know students have different learning styles, so it helps to have many ways to show concepts. You can laminate this and put it on your wall.
Our state theory test is an amazing effort by many volunteer teachers. For better or worse, students get a medal if they score high enough at their actual school grade level. If they are an older beginner they have to know rhythms much more difficult than they are playing. However, this chart really helps older students see rhythms logically and realize it's not as difficult as it initially seems.
I've administered the rhythm performing part of our test to hundreds of middle and high school students over the years, and I've found that most of the mistakes occur because students:
 Don't hold dotted rhythms long enough because they

 Don't count, because they are

 A little rusty on how to count, and they are

 Embarrassed to count out-loud.
Every one of the above are very fixable by practice with you. It is quite true that some students find counting out-loud while they play difficult, so tap the rhythms with a pencil. For some reason, that seems to help with "performance anxiety."
As teachers we might think our students know concepts because they have very good ears and are great imitators. But if they are tested by a stranger, even a really nice one like me, little flaws can show up.
Adult pianists have told me they can't learn new music because they don't really understand "timing." This comes from adults who play at the intermediate level and were really good a picking up rhythms once they heard them, but didn't know how to figure them out for themselves. I know that I have been surprised sometimes when I thought students knew things that they evidently forgot, so let's not blame teachers. It just happens.
There are two pages in this PDF file, one for dotted quarters and one for dotted eighths. I hope this teaching tool will help your students, so after they leave you they will have a good foundation in rhythm.
If you want some of your younger students to practice rhythms, here is a little Easter egg game you can play. It's very simple. Hide the egg cards around the room and when they find them, they tap they rhythm. You can find all my Easter material here.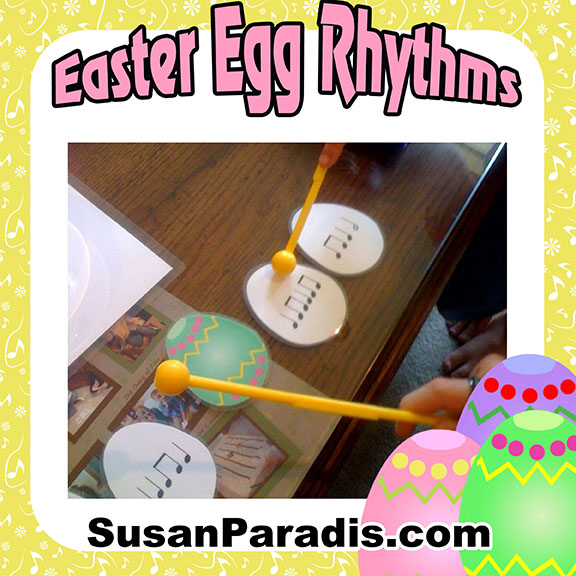 Please follow and like us: