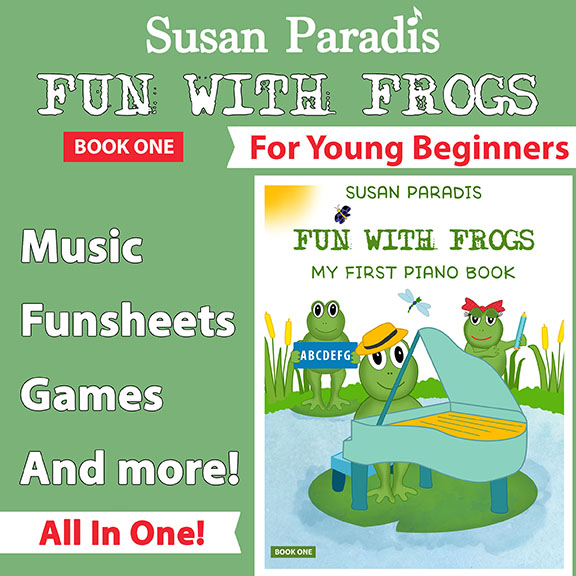 🎈🐸Your young piano students will love Fun with Frogs, My First Piano Book, the first book in a series of three. This is a 42 page all-in-one approach to teaching beginning piano to young children either in groups or private lessons. These little green frogs are designed to delight young beginners who can identify numbers 1 through 5 and letters A to G. The whimsical frogs take children on a musical  journey starting with learning finger numbers and proceeds to left and right hands, black key groups of two and three, notes going up and down, and quarter notes. Material for students include worksheets, games, listening activities, pre-reading (no-staff) piano music, hands on activities, and other printables. It is also a resource to supplement method books for children who need more help.
I've had so many teachers ask me to write a book that moves slowly enough for young beginners or children with challenges. Book Two and Three will be published soon. After Book Three, students are prepared for learning to read music on the staff.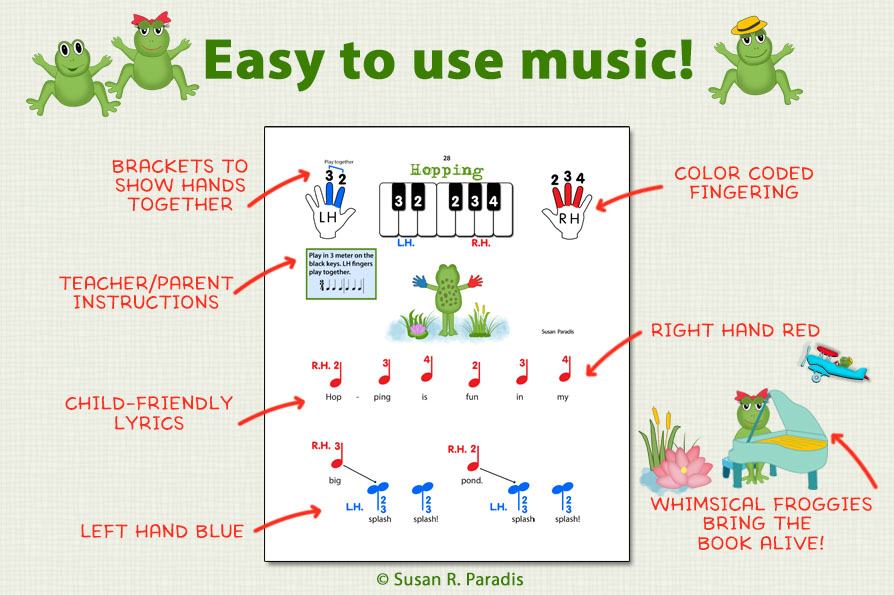 This well-rounded material can be used with:
* PRIVATE LESSONS
* SUMMER CAMPS
* GROUP LESSONS
* SUPPLEMENT TO METHOD BOOKS
* CHALLENGED STUDENTS
* PARENTS
* GRANDPARENTS
* HOME SCHOOL 
While teachers and parents recognize the benefits of learning piano at an early age, many piano teachers are reluctant to start younger children because of their special learning requirements. Preschool children need more time to learn basic concepts and need much more repetition and activities than average-age beginners. In this book concepts have a lot of repetition in the form of music, writing activities, and hands on activities.
With a book you print yourself, you can print only the material you need!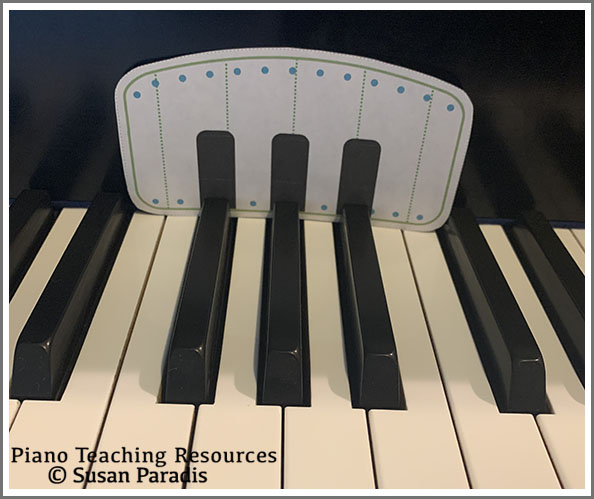 Two or Three Game from Fun With Frogs Book One
Book One starts with basic concepts of piano playing and teaches students how to play three fingers on the black keys. Book Two and Three are coming soon.
There are a total of 42 pages including:
12 pre-reading pieces with lyrics to play on the piano
10 theory fun sheets to color, trace, or write
1 game to play at the piano
1 bingo game for 6 students
2 hands on activities
5 listening activities
1 finger skill page
List of children's songs and rhythms
Color cover for the book
Printable spines for a binder in 3 sizes
An award certificate
General teaching instructions for the various activities
Table of contents
  To order and see sample pages, click here. 
THIS IS A STUDIO LICENSE, SO YOU CAN PRINT COPIES FOR ALL YOUR STUDENTS! 
The pages are numbered and there is a table of contents, cover, and binder spines for teachers who want to make a book out of it. Or you can print out only what you need as supplementary material for a student who needs it. This book is very versatile!
Please follow and like us: