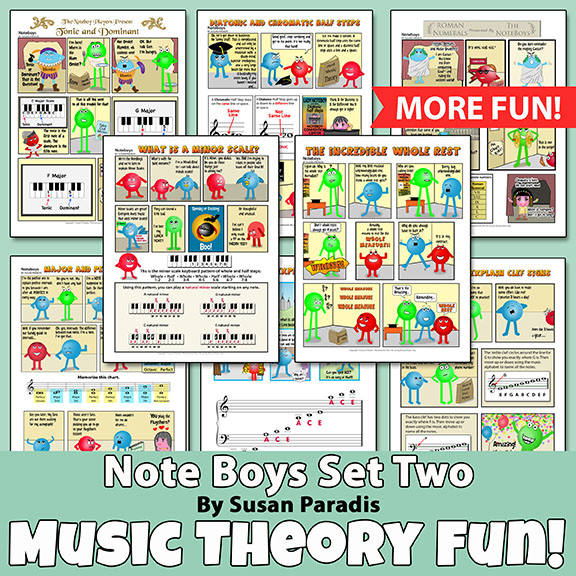 • New! NoteBoys Bundle Two •
You asked for more NoteBoys, and here they are!
The NoteBoys second bundle is now available with their unique and zany way to teach music theory. My students actually laugh out loud when they read these posters that explain music theory concepts in an easy-to-understand comic book format. I've been teaching long enough to know that if you teach theory with humor, students remember it a lot longer!
This set contains five completely new NoteBoy posters never seen before along with three old favorites that have been reworked and updated, all different from set one. The levels range from beginners learning clef signs to older students learning diatonic and chromatic half steps.
Using kid-friendly humor and visual graphics, they explain in simple terms theory concepts that can be hard for students who come to piano lessons only once a week.
Your late elementary and middle school students will love the NoteBoys! 
Comics included in this second bundle are:
• The NoteBoys Explain Clef Signs – Even beginning students can start off with some fun.
• The NoteBoys Explain Ledger Lines – The prince and his purple pony find ledger lines as easy as A C E.
• The NoteBoy Players Present Tonic and Dominant – "Hamlet" explains what these words mean in this funny comic.
• Roman Numerals Presented by the NoteBoys – Ever notice how some students have no idea what Roman Numerals are?
• The NoteBoys Teach Minor Scales – Many teachers have asked for this comic that explains how to construct natural minor scales.
• The Incredible Whole Rest – It doesn't always mean four beats, but most students think it does.
• Major and Perfect Intervals – The NoteBoys can make even major and perfect intervals funny!
• Diatonic and Chromatic Half Steps – The NoteBoys break down this complicated concept for students taking theory exams.
Also included in the bundle is an introduction to personalities of the NoteBoys for students who are new to the comics.
Please follow and like us: