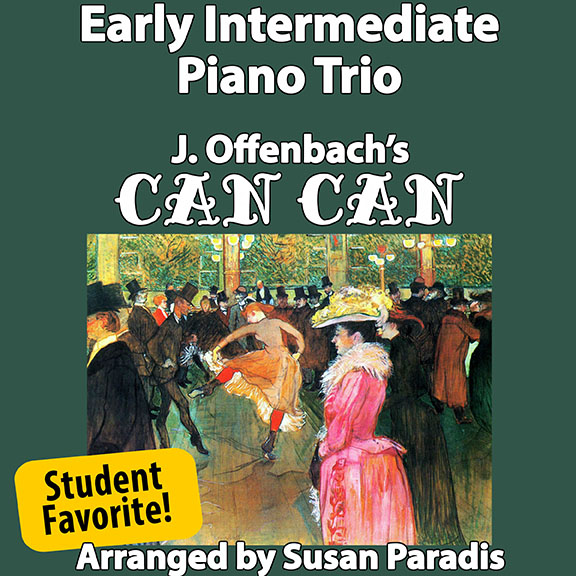 On sale through Friday, Feb. 2.
I am really happy to announce my arrangement of the familiar song, Can Can Trio, for 6 hands at one piano. I've just added it to my music store and it will be on sale through Feb. 2, 2018. Your students can't listen to this without getting in a good mood!
Great fun for all!
I think I've mentioned that I write trios for my students, and one of my teens specifically asked me if I would make a trio out of the song Can Can. He said he learned it from a video game, of all things! We had a little discussion about the origins of the song, and he learned there was more to the music than the familiar Can Can melody he knew.
I took a look at the orchestra score from the familiar Orpheus in the Underworld by Jacques Offenbach and decided I could do it! To add to the fun, I added the folk song, Buffalo Gals, and partnered it with the original melody at one point in the music.
This is a long trio, and I worked very hard to make it accessible for early intermediate students who want to perform something flashy, but don't have the skills for some of the more difficult trios that are available.
When your students start to learn it, they will probably be like mine and ask, "Where's the Can Can?" I told them to just wait, it's there!
With all the rests and pauses at the beginning, I was worried about them playing together, but that was not a problem. It also helped with their counting!
Your intermediate and early intermediate students will really have fun with this one!  Each part plays the melody in this energetic piece. For teaching ease, the measures are numbered, and all versions of the score include fingering to help students learn it quickly. Please note there is no traditional trio score with this music because of the length.
This is a studio license. Save the files and a single teacher can make unlimited copies for students. 
Included in the files are the following:
A 15 page director's score with all the parts together. Students will use this score for performance.
Three individual scores (for high, medium, and low parts) to save paper and make it easier to learn their part.
A color cover page.
Bonus slow practice mp3 audio file.  Send it to their phones in a text message!
A total of 34 pages.
Please follow and like us: