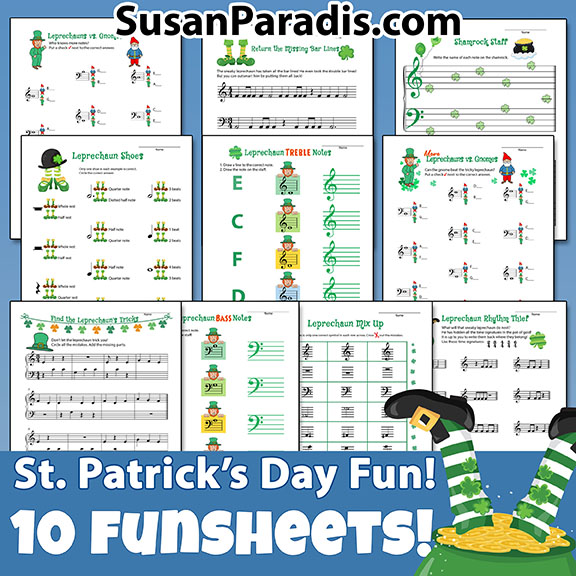 On sale for $3.99 until midnight March 13, 2019
Students will love these colorful Leprechaun and St. Patrick's Day elementary music theory fun sheets on sale in my store for a limited time.
We all know how students need constant reinforcement of music theory concepts and how hard that can be while we work on recital pieces, festivals, and method books.
These sheets reinforce a variety of theory concepts from early elementary to elementary level. Some of the rhythm pages include eighth notes. A few pages are for older elementary students. Two of the note reading pages are for beginners who only know the notes around middle C position. Each page highlights important music theory concepts.
Give one of these to siblings who have to sit and wait their turn, or students who arrive early. This is a great way to reinforce all the hard work that you have done this year, so it is almost like a bonus theory lesson for them. They are good for students who plan to take theory exams.
I designed these printables with students as well as teachers in mind. The instructions are fun and silly, they are fast for teachers to check, and they can be used on an iPad. There are some pages I've never made before including a page where students identify the incorrectly written rhythm in a melody. Plus there are worksheets to draw missing bar lines, identify notes and rhythm, and supply missing notes or rests. They all have cute titles and art so students have lots of fun. Plus, none of these are too long to become drudgery for the student. In fact, after they do one, they may ask for another! These pages are not busywork, but are great reinforcement for learning basic music theory.
I also included two bonus teacher answer sheets for the two pages that are time consuming to check so that you can look over them quickly when you are short on time.
There are a total of twelve pages including the two answer sheets divided into two bundles. You will receive links for both bundles.
BUNDLE ONE
Leprechaun Shoes (rhythm)
Leprechaun Treble Notes
Leprechaun Bass Notes
Leprechaun Mix Up (identify incorrect symbols)
Find the Leprechaun's Tricks (circle incorrect rhythm notation in a melody)
Answer sheet for Find the Leprechaun's Trick
BUNDLE TWO
Leprechauns vs. Gnomes (note reading)
More Leprechauns vs. Gnomes
Leprechaun Rhythm Thief
Answer sheet for Leprechaun Rhythm Thief
Return the Missing Bar Lines (rhythm)
Shamrock Staff (note reading)
These bundles are on sale for one week only. Click here to get them now at the introductory price.
Please follow and like us: